Recalbox 6.1 : l'arlésienne est devenue réalités !
C'est avec émotion que Recalbox nous a annoncé la sortie de Recalbox 6.1, après quelques semaines de galères avec les versions bêta pour la GPI Case, les bugs de dernière minutes, la team voulant bien faire, il était préférable pour eux de repousser jusqu'à l'excellence, c'est chose faite !
Recalbox 6.1 : Quoi de neuf ?
Comme nous n'avons pas reçu le communiqué de presse a l'instar de tous les autres gros sites mainstreams pourtant en l'ayant demandé 🙂
Nous allons éplucher le Changelog de recalbox ! Nah !
Les vrais nouveautés
## [6.1]
- New video snaps
- Add game info screen in demo mode
- Add gpi auto-detect & install drivers & settings
- RetroArch Disc Project: Initial backend implementation
- Add Vice x64sc (accurate) emulator for Commodore 64
- Add PC-88 emulator (libretro-quasi88)
- Add TIC-80 emulator (libretro-tic80)
- Add arcade meta-system
- Add amiga emulator (libretro-uae) on all platforms
- Add Atomiswave, NAOMI and new Dreamcast emulator on x86_64 (libretro-flycast)
- Add Saturn libretro emulators (mednafen_saturn, yabause and yabasanshiro) on x86(_64)
- Cap32: Add gx4000 (Amstrad CPC+ series) as own system
- Add Uzebox emulator (libretro-uzem)
- Add Spectravideo 318/328 emulator (libretro-bluemsx)
- Add GSplus standalone emulator
- Add Sharp X1 emulator (libretro-xmil)
- Add Palm OS (OS4, OS5 still in development) emulator (libretro-mu)
- Replace old ScreenScraper scraper with a new one using API v2
- Replace old TheGameDB scraper with a new one usign latest APIs
Les minis ajouts
- Replacement of the neogeo intro video
- Wifi password encryption removed
- Add RetroArch option "quit_press_twice" to confirm before exiting a game
- Add new recalbox/retroarch/core configuration override par system/folder/game
- Moga Pro Power, Wiimote, Logitech RumblePad added to es_input.cfg
- N64: add .zip and .7z extensions (only work with libretro-mupen64plus)
- Add new recalbox.conf keys to ease AI Service configuration
- Bluetooth: Previously configured pads automatically unpaired before pairing again
- New theme folder in /recalbox/share/themes
- Architecture added to the image name
- Add recalbox-hardware package for case management
- Add a CI stage for linting
- Add .7z extensions where they were missing
Les mises a jours
- Bump ScummVM (new theme)
- Bump oricutron
- Bump ResidualVM
- Bump raspberry pi firmware - Compatible Pi 3A+
- Bump libretro pcsx_rearmed to support .chd files and "optimized" PSXONPSP660.bin BIOS
- Bump retroarch to 1.7.8
- Bump Odroid XU4 kernel to 4.14
- Bump MoonLight to 2.4.10 and support last versions of GFE
- Stella libretro: Rebrand stella to stella2014 and add upstream stella core
- Update Theodore core: add emulation of Thomson MO6 and Olivetti Prodest PC128
- Several core/emulator bumps
- More firmwares and drivers added
- Switch default retroarch ui to ozone
Changement et ajout de Core
- Mupen64Plus libretro: Migrate Glupen64 to Mupen64Plus
- Remove generic MSX in favor of new MSXturboR system
- Add gearsystem libretro core
- Add sameboy libretro core
- Change default mame emulator to mame2003_plus core (0.78 romset with improvements and additions)
Les fixes
- Fix : bug introrecaboxsms.mp4 is not playing fixed with reencoding
- Fix: adding gpicase specific video dpi overlay
- Fix: adding gpicase specific audio pwm overlay
- Fix: non working GPIO and Custom GPIO on Pi0 and Pi1
- Fix: Recalbox manager: typo error
- Fix keyboard configuration specification for `es_input.cfg`
- Fix boot intro videos (x86, x86_64)
- GUI: In game views, START open the game contextual menu. SELECT switch between all game/favorites only
- Fix system unique key: fullname+platform instead of name+platform
- Fix demo mode using retroachievements
- Fix demo mode using autoload/autosave
- Fix double-quotes in dolphin's configuration
- Fix empty controller file for ScummVM
- Fix x86/x64 scanning too few /dev/input/event
- Fix wifi issue in case of bad recalbox.conf
- Web interface: IRC link replaced by Discord link in help section
- Fix lutro zipped games unzipping in the .lutro folder
- Support archive: switch to transfer.sh Temp File Hosting
- Fix key-based SSH login with NTFS and ExFAT external drives
- Fix wifi issue on some boards
- Fix steam controller driver
- Fix post-upgrade cleanup
- Fix amiga multi-disks files bugs with []
Les optimisations
- Retroarch ratio resynced ('custom' and 'core-provided' added, old 'custom' renamed 'none')
- Improve volume balancing between RetroArch and Recalbox
- Improved RGUI configuration on GPI
- Enable Vsync in dolphin-emu
- Enable VSync on retroarch (x86, x86_64)
- Enable toolchain LTO
- Document `/boot/recalbox-boot.conf` (in-file comments)
- Add optimized settings manager (used in scripts and boot scripts)
- optimize init scripts up to S09wifi (including heavy refactor of S03splash and S09wifi, and some scripts re-ordering)
- Linapple-Pie: Use upstream repository
- Shutdown System option moved at the top of the Quit menu
- Enable threaded-dsp option in 4do core
- Enable both hotkeys and I2C on RasberryPi GPIO
A la lecture de ce changelog, les grosses nouveautés ne sont pas légion mais un gros travail de fond a été effectué et ça on ne peux pas leur reprocher, nous avons l'ajout du mode vidéo pour la présentation des jeux, les joueurs se plaignant déjà que le son n'est pas audible, pensant même que les vidéos n'en avaient pas, mais screenscraper a confirmé que si.
L'amélioration du mode de démo, une feature pas indispensable mais toujours sympa sur une borne.
L'auto détection du GPI Case pour installer les bons composants et les optimisations en lien, je pense que c'est peut être même parmi tout le lot, le gros plus de cette version !
L'ajout du support du Raspberry pi A+, ça c'est une bonne nouvelle pour l'utilisation futur du GPI A+ mode de la Team Retro Game Restore
La réapparition du scraper utilisant l'api v2 du site screenscraper, ce fut long et chiant des dires de la team de dev recalbox mais oh combien utile pour scraper juste l'ajout d'un jeu ou deux sans tout devoir lancer sur le pc.
L'ajout d'une quinzaines de nouveaux émulateurs tous plus inutile les uns que les autres, mais ils ont le mérite d'être ajoutés pour la postérité 🙂 a part la Saturn bien entendu !
On notera l'implémentation du Disc Projet, du coup, c'est presque un peu en contradiction avec du retrogaming sur un support d'émulation, mais c'est drôle de se dire qu'utiliser les supports d'origines va être possible !! A quand le support d'un lecteur de disquette 5 1/4 que je puisse rejouer a Godzilla et Snake sous Dos !
Même si l'effet d'annonce me semble un peu démesuré par rapport a l'ajout en terme de nouveauté brut, c'est une belle version qui nous a été livré avec son lots de mise a jour et de fixes, rien a dire, du bonheur encore et toujours !
Comment installer une Recalbox
Qui de mieux que le maître de la maison Recalbox pour vous expliquer comment l'installer, c'est dans la vidéo ci dessous:
Thème Recalbox
Je vous partage 3 thèmes que je trouve intéressant a exploiter sur votre recalbox, il en existe des 10enes d'autre, de tous les styles, de toutes les variations, je vous encourage a allez visiter la page Themes & Interface Recablox pour trouver votre bonheur.
Thème 'Emulga Nostalgia'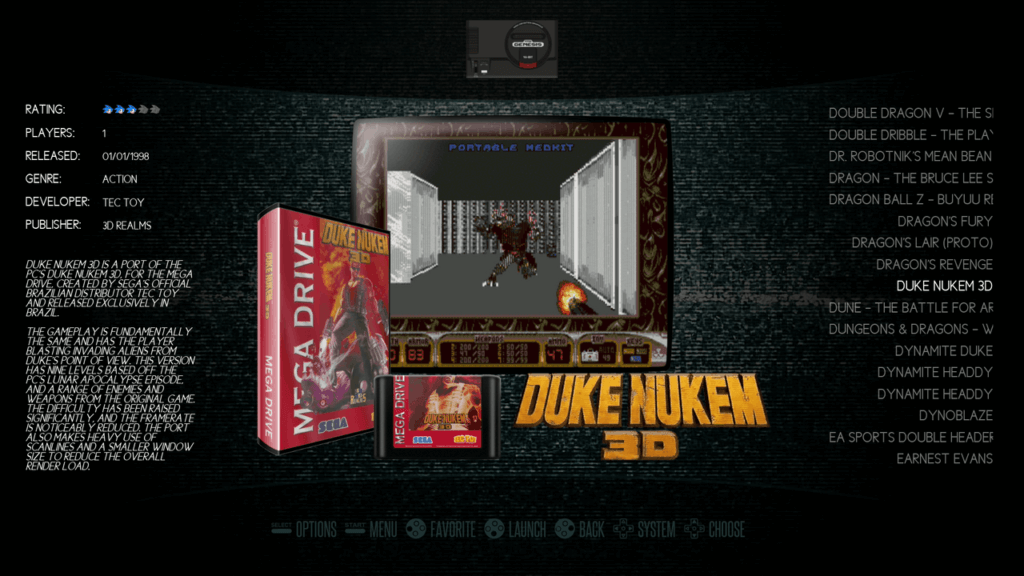 https://github.com/Emulga/theme-emulga-nostalgia
Theme 'Emulga Box'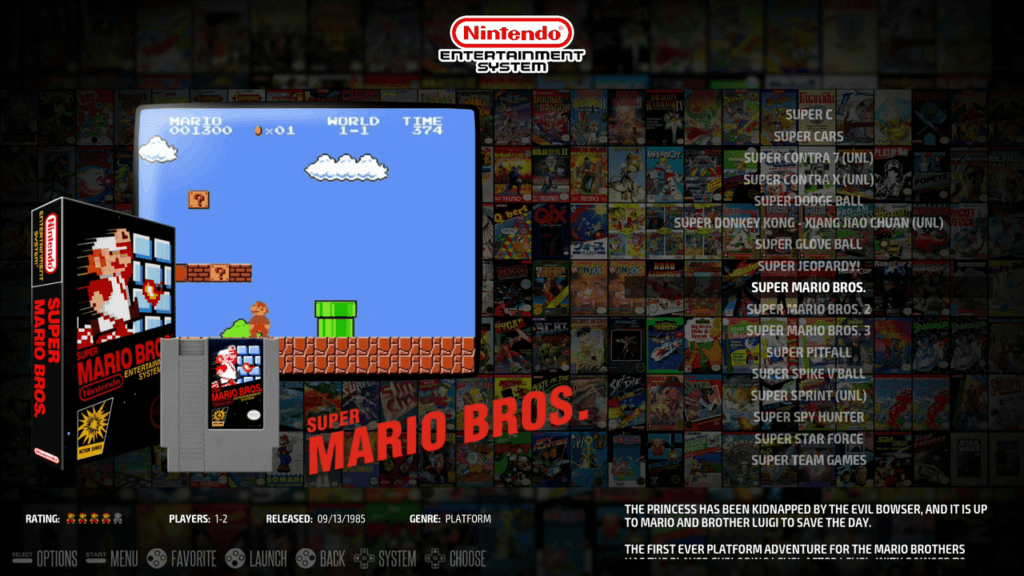 https://github.com/Emulga/theme-emulga-box
Next Pixel theme
https://github.com/SamYStudiO/es-theme-next-pixel
Les Overlays
Le pack d'overlays créé par la team Emulga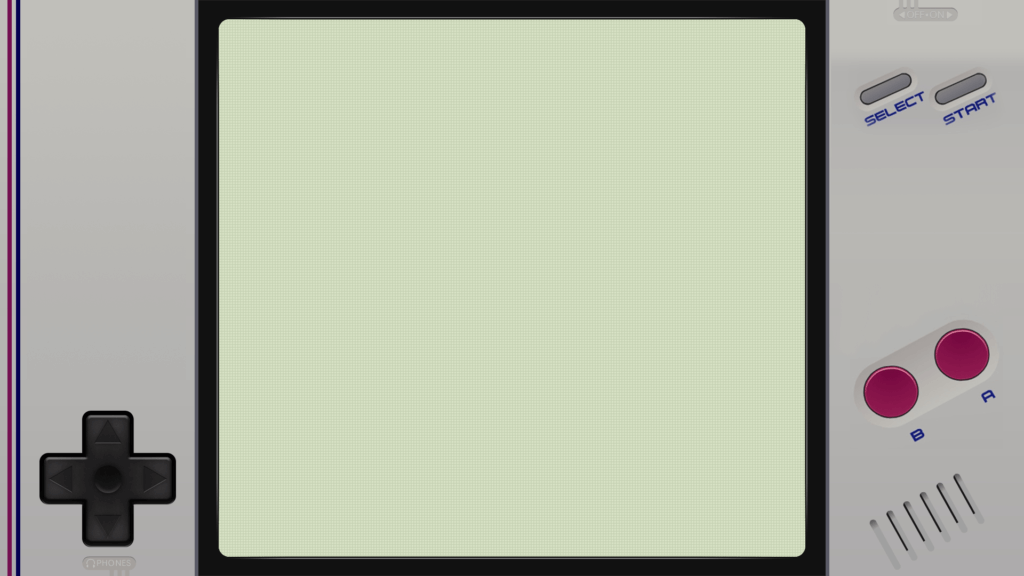 https://github.com/Emulga/recalbox-overlays
Pour rejoindre le discord de la Team Emulga
Les packs overlays créés par la Team Screenscraper
Recalbox > 6.0
Version Full, avec effet sur le centre de l'écran:
PACK ODROID & PC (1080p):
https://www.screenscraper.fr/download/Pack_Overlays_Recalbox_6_0_Odroid_PC.zip (928 Mo)
PACK RASPBERRY (720p):
https://www.screenscraper.fr/download/Pack_Overlays_Recalbox_6_0_Raspberry.zip (574 Mo)
Pour plus de packs et d'informations, je vous invite a vous inscrire sur Screenscraper et a suivre ce lien